Modern Egg shaped smart Toilet commode 0041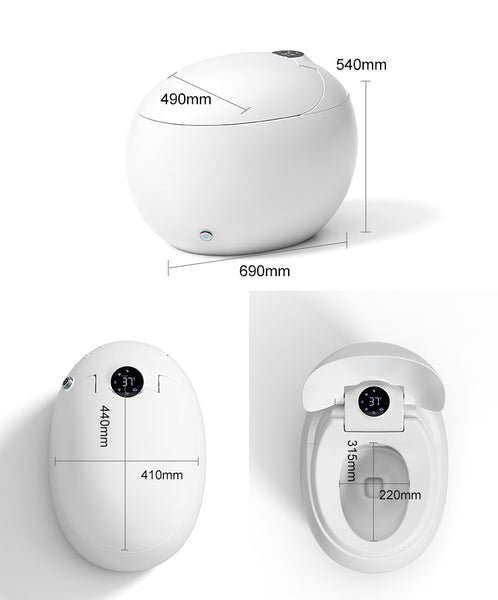 | | |
| --- | --- |
| size:690X490X540mm | toilet seat size:440X410mm |
| seat cover size:315X220mm | flushing method:single hole +s-trap |
| roughing-in: customizable 200-450mm | wire length:1.5m |
Feature List
·Nozzle Adopts Air INjection Structure
·Female Cleaning、Buttocks Washing
·Automatic Cleaning
·Mobile Massage
·One cover is universal for children and adults
·Adjustable Seat Temperature
·Automatic Open / Close
·Female Cleaning Buttocks Washing
Independent water tank, no water pressure limitation
The built-in water tank has no water pressure limit, high floors, old towns, unstable water pressure in small pipes, and peak water consumption, all can be used
No water pressure limitation
hidden water tank
low water consumption
7-fold protection system
Humanization is equipped with seven protection devices to ensure the safety and stability of use to the greatest extent.
IPX4 waterproof
Anti-leakage protection
Voltage protection
Pool voltage protection
Temperature Sensor
mechanical thermostat
Temperature protection wire
Reconstructs The Imagination
Innovation comes from abandoning tradition, breaking and reorganizing conservative structures, making beauty a daily habit and a new way of life to experience the beauty of art
Artistic innovation Avant-garde art design
German craftsmanship The masters poured into the creation
Maverick break the traditional concept
IPX4 waterproof
Anti-splash of domestic water, meet daily waterproof needs, no need to be afraid of dry and wet separation toilets
Exquisite packaging
Perfect product packaging, just to make the product perfect in your hands
Shipping information
Ship to US and Canada about 10-15 working days
Ship to Australia and New Zealand about 25-35working days
Ship to Australia East and South Asian countries about 15-25 working days.
Ship to Middle East region about 20-30 working days
Special note: Due to the impact of COVID-19, you may be delayed in receiving the goods, please understand.